Slotenmaker voor raamslot installeren in Apeldoorn
Het grote verschil voor een slotenmaker tussen een raamslot en een deurslot is dat een slot op het raam enkel aan de binnenzijde afsluitbaar hoeft te zijn. Dit gegeven maakt een raamslot installeren in Apeldoorn een stuk makkelijker. De meesten zijn namelijk oplegsloten die zeer makkelijk te plaatsen en te vervangen zijn. Er zijn wel ingewikkeldere inbouwsloten, zoals inbouwespagnoletten maar deze worden meestal compleet met raam aangeleverd. Als u een slotenmaker nodig heeft voor het installeren dan zullen dat meestal de oplegsloten zijn. Er zijn verschillende soorten te gebruiken zoals raambomen en raamgrendels. Welke soort er het beste voor uw raam gebruikt kan worden is afhankelijk van dingen als de draairichting van de raam en of het een enkel of dubbelraam is.
Raamboom installeren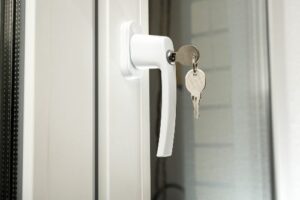 Een raamboom is een simpel oplegslot wat zeer goed als raamslot gebruikt kan worden. Het is een slot wat bestaat uit een hendel die naar beneden gedraaid wordt, waarna er een uitsteeksel van de hendel in een sleuf op het kozijn geschoven wordt om het raam af te sluiten. Raambomen worden ook vaak als bijzetsloten op deuren ingezet.
Raamgrendels installeren
Raamgrendels zijn misschien nog wel een simpeler slot dan de raambomen. Het wordt ook als oplegslot op de raam gemonteerd en een sleuf die op het kozijn wordt gemonteerd. Om het raam af te sluiten duw je simpelweg een pin in de sleuf om het raam te vergrendelen. Het grote voordeel van raamgrendels is dat deze op bijna alle ramen kunnen worden toegepast.
Neem contact met ons op voor advies!